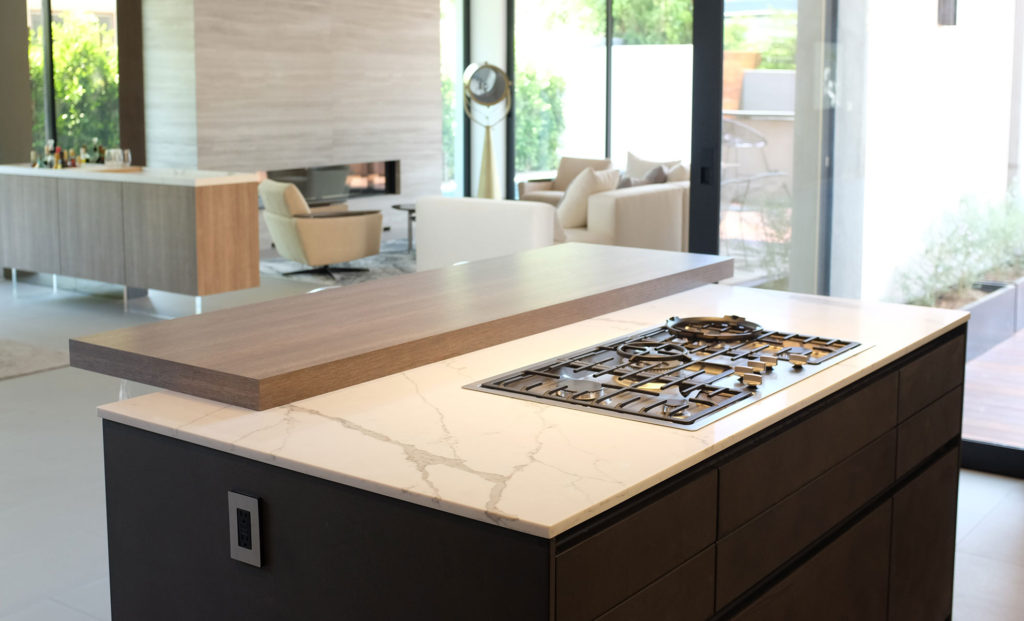 1. Measure for Installation
Once you've got your granite picked out and your old countertops removed, In case of an using existing kitchen cabinet, we can apply the demolition disconnect and remove your old countertop, sinks, cooktop, appliances, etc. prior to installation. We suggest you schedule a plumber and electrician for the day following installation so they can reconnect plumbing (sinks, cooktop, appliances, etc.) and wiring as required. In some areas. we take accurate measurements of your base cabinets and take it to our shop for the fabrication process. we will start with the tops of the base cabinets, including the distance from the front of the face frame to the wall along the entire length of cabinets, island, overhangs, waterfall, backsplash etc.
2. Create a Template
The most accurate way to get measurements for us is to make a template. We will scribe the template so that it fits snugly against the wall along the entire run of cabinets before tracing the front edge onto the template. In the template we measure the exact locations of cutouts for sinks and cooktops, and holes for faucets and soap dispensers. If you plan an under mount sink, we make a note of that on the template for our shop to know how to cut a along the sink edge, there is 3 options: negative reveal, no reveal, or positive reveal.
3. Prepare for Installation
Once we have the counter are ready in our shop, it's time to install them ( fabrication process will take 5-9 working days) We will call you a head to schedule an installation date and time of our arrival. installing of a kitchen counters normally takes day or two.
4. Apply a Sealer
When installation is complete, finish by applying cleaning stone counter and applying a stone sealer to your new stone countertops (his will protect the stone and prevent any deep staining). you need to applying seal only when using natural stone (quartz counter do not need to be sealed).
5. Maintenance
Clean your new countertops on dally basis using soap and waterInstalling or granite& marble cleaner, you will need to seal you counter every 3-6 mouth depending on type of stone and the type of sealer, in case of quartz counters, please us us for the best product to use for the cleanup.
---